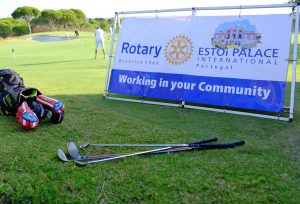 The Estoi Palace Rotary Club International (RCEPI) very successful 6th Annual Charity Golf Tournament was a sell out and plenty of fun for all involved. Nearly 80 players signed up and enjoyed a perfect day on Potugal's number one golf course, Monte Rei Golf and Country Club. The players arrived to enjoy breakfast, driving range practice, stableford 18 holes of golf, lunch, and competition prizes.
The goal of the RCEPI Golf Tournament is to raise funds for local charities and this one scored high as the Club's largest fundraiser of the year with over 10,000 euros received from golfers, sponsors and competitions.
The day began with breakfast and golf practice on a day with perfect weather in a month full of heat waves and the luck continued as many participants hit some of their best scores ever.
A delicious lunch with views over the Monte Rei Golf Course was the perfect setting for the awards ceremony. This year's top winners are: Mens: 1st Place: Oscar Brennon with 40 Points, 2nd Place: Barry Watson, 39 Points and 3rd Place: Donald Steven, 38 Points. Ladies: 1st Place: Shirley Ann Steven, 36 Points, 2nd Place: Diana Collins, 35 Points and 3rd Place: Claudette Tournier, 34 Points.
A closest to the pin competition along with a beat the pro event added more fun and prizes to the exciting day of golf and socializing. If you'd like to see more of the action photos they are available on the Rotary club Website and Facebook page.
RCEPI is looking at ways to add more golfers next year so that those on the waiting list will be able to play. If you're interested in golfing in next year's event then make sure to sign up on the email list today. If you're on the list you'll receive the first communication when sign ups become available. More than half the sign ups were booked when the golf committee sent out its first Early Bird email.
On view at the event was a van purchased in June by RCEPI, nicknamed "Wheely". The vehicle will be used to provide mobile lung and skin cancer testing together with preventative information throughout the Algarve. The funds raised by our golf tournaments helps charities right here in our local Algarve Community as well as International Projects. The Club has helped fund:
• a local school purchase a new oven for their culinary program
• a mobile breast cancer unit
• paid the base fees for students at Faro University
• assisted in purchasing a refrigerated truck for the Faro Food Bank
• paid for a local milk programme
• sponsored disabled community members
• donated wheelchairs
• sent children to summer camp
• funded crucial wheelchair access
• donated dictionaries to 5th grade students
• donated towards multiple sclerosis
• purchased Christmas gifts for disadvantaged children
• funded the purchase of a new fully equipped ambulance for Sao Bras bombeiros as well as other supplies plus support for the recent firefighting efforts
• plus many other projects
Additional funds were added by local businesses who sponsored the event. This year's sponsors were:
Blacktower Financial Management (International) Limited, one of Portugal's leading international financial advisers. Blacktower has more than 30 years' experience helping to make retirement and wealth management plans work for UK residents and expats alike, and with offices across the EU – including Quinta do Lago and Cascais, they offer a truly tailored approach to finances – from International Pension Transfers to Regular Savings Plans Blacktower can help steer you on the right path based on your individual circumstances.
Open Media, The Algarve Resident and The Clubhouse Algarve Magazine, Open Media has been active in the publishing business in Portugal since the mid-1980s and are proud to be media sponsors for 2018 Rotary Club Estoi Palace International Golf Tournament.
Conrad Algarve, Conrad Algarve combines exquisite style and contemporary luxury with all the conveniences of a sophisticated modern retreat. The property is nestled within two thousand acres of idyllic landscape in the Ria Formosa Natural Park. The 154 room hotel evokes a true sense of place, from the 18th Century Portuguese palace design, to the local ingredients used in the spa and the innovative culinary experiences. Stay Inspired at the sophisticated Conrad Algarve.
Centro Porsche Faro, The "Porsche World" is unique. It is a success story built over decades in a constant complicity between the Brand and its proud Customers. The Centro Porsche Faro wants to make the "Porsche World" even more fascinating and unforgettable. That's why we designed and built a modern and functional infrastructure, one of the most advanced in the Iberian Peninsula, with 2,840 m 2 of covered area, to satisfy their Clients. They created a team with a solid background, vast experience and unique enthusiasm to meet the needs of their customers. The Porsche Faro Center invites you to visit their facilities.
The Works Print Shop, more than just design and print solutions it's an ideas factory with a revolutionary concept. They Conceptualize, Create, Design, Manufacture and Implement within a budget. This company is results orientated and gives you the WORKS. Concept to creation under one roof.
Monte Rei Golf and Country Club is the most prestigious golf facility in the Algarve and the only Jack Nicklaus course in Portugal. Recently listed as one of the top courses in Europe you won't want to miss this opportunity to golf for charity packed into a fun-filled day.
We're happy to welcome more sponsors for this year or next year's tournament and invite interested companies to visit our online page for sponsors at: https://rotaryestoipalace.org/golf-sponsorship/
If you would like more information on this event you can contact Peter Zahner at peter.zahner@rotaryestoipalace.org or visit the website at https://rotaryestoipalace.org/golf-registration/
"Service Above Self" is our motto and we invite you to join us.