[waiting name="poliobikeride2019″]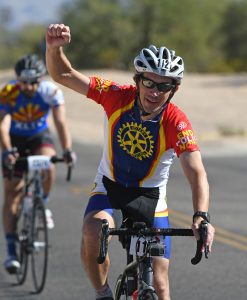 Sixty years ago polio was one of the most feared diseases in the developed world, killing hundreds of children in the UK each year and leaving thousands paralysed. There is no cure for polio, it can only be prevented. Polio vaccine, given multiple times, can protect a child for life.
Since 1979 when Rotary began its first project to vaccinate children in the Philippines polio cases have reduced by 99.9 percent worldwide from 350000 cases in 1988 to 94 in 2015.  Working with various partners including the WHO and the Bill Gates Foundation we are very close to eradicating polio, but continued global immunization is vital to succeed.  As long as a single child remains infected, children in all countries are at risk of contracting polio. Failure to eradicate polio from these last remaining strongholds could result in as many as 200 000 new cases every year, within 10 years, all over the world. Because of this global effort most countries have now expanded their capacity to tackle other infectious diseases by building effective surveillance and immunization systems.
Rotary Club Estoi Palace International will be holding its annual fundraising bike ride on Sunday 24th November.  The ride will be organized by Activity Bike Rides,  https://www.facebook.com/activityalgarvebikerides/
There will be two rides on offer both starting from Estoi Palace Pousada at 9.30 am and will take about 2.5-3 hours.  The hill ride is around 35 kms and quite challenging as it includes cycling up to the top of Serra Sao Miguel. The other ride is over flatter terrain and will head towards the coast probably Fuseta/Olhao direction.   If you would like to take part, sponsor a rider or just donate please contact  shirley.d@rotaryestoipalace.org or book or donate through our website https://rotaryestoipalace.org/sponsored-bike-ride/ .  All donations will be matched 2 to 1 by the Bill Gates Foundation.